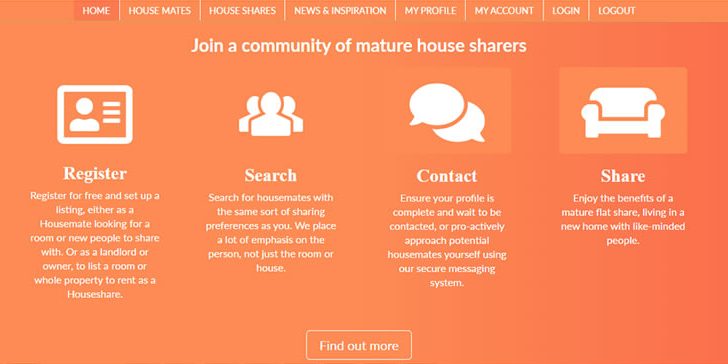 Cohabitas is exclusively for the over 40s. It's Free to Register to join a friendly community of people all interested in sharing a home with other people.
Before you Register, it's good to have a personal profile picture available – but don't worry, you can add this later if you prefer; It's not compulsory to add a photo but we think it makes things more personable and it does help your listing get more attention and enquiries. All you have to do is complete a simple registration form indicating where you'd like to live, what you're looking for and your 'sharing preferences' in terms of property and house mates.
Because everyone's house sharing needs and preferences are different, you can search for housemates by location and age, and you can then see people's sharing preferences, interests and 'what they are looking for' on their personal profile page.
If you own a flat or house and want to list a room, then we also like you to add some personal details, as it's not only the room or house that makes the better sharing experience, but also you as a landlord, especially if you live in the same house.
Once registered you can freely move around the site until you're ready to contact a potential housemate or landlord to either discuss renting a whole property together, or discuss renting the room they have listed.
To contact other users you will need to buy a Premium listing membership, which costs between £9.90 (7 days) or up to £27.70 for 3 months. You might want to consider a longer membership as it is an important decision who to live with when you're a bit older and more discerning. There are new listings being added every day so it can take a while to find exactly what you're looking for.
Getting attention and response – The most important thing, whether you are a landlord listing a room or a housemate interested in meeting like-minded people in your preferred area, is to add some detail to your personal profile. If you can, we recommend adding a little more personal information to your profile by completing the About me section in Edit Profile – there is a field called 'A few words about me and what I'm looking for' that really helps response. Just sign-in and go to Edit profile.
If you are new to flat or house sharing – you might need some advice or inspiration. For you we have a free House sharing advice section that you might find useful, as well as a News and Inspiration section with other people's advice and stories on sharing.
Register to monthly newletters.